Experience 3D VR sculpting with Shapelab
VR sculpting with Shapelab's intuitive interface and extensive toolset makes it easy to create organic 3D objects, from simple shapes to complex designs. Visualize your creative ideas and print them in 3D or VR sculpt high-quality props, characters, and concepts for applications, games, and virtual worlds, as well as digital concept art and storyboards!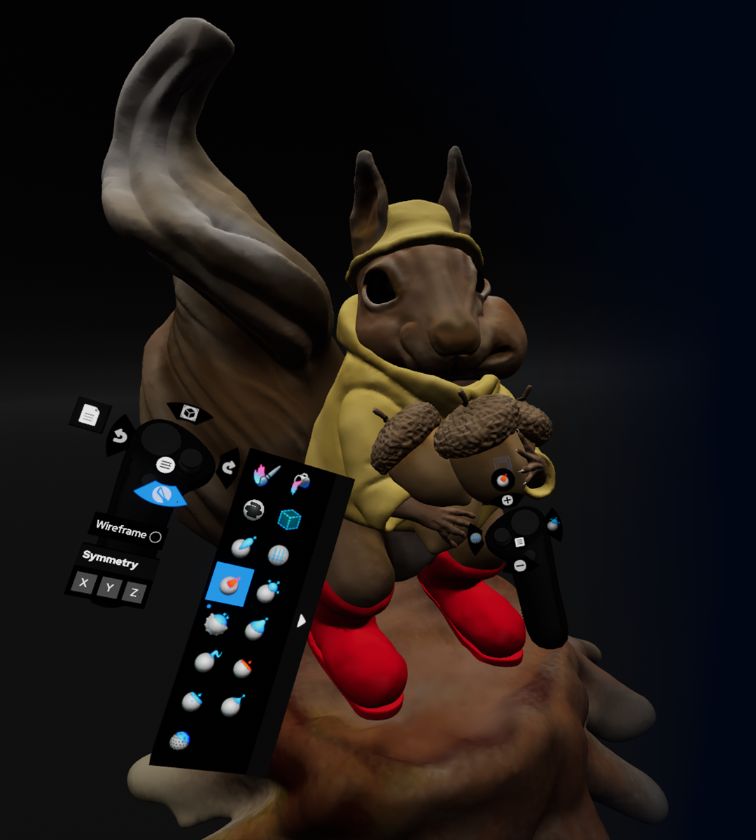 Digital sculpting means manipulating a 3D object as if it were made of clay, with software that offers tools to push, pull, carve smooth, grab, and pinch the mesh, and build up and remove material. Traditional 3D sculpting applications are heavily technical and take time to master – here is when virtual reality comes into play!
VR sculpting is defined as digitally sculpting 3D objects in the VR environment, moving the cursor in six degrees of freedom with VR controllers instead of a mouse and keyboard.
Virtual reality enables you to enjoy a life-like sculpting experience in a relaxing and fun atmosphere. Meanwhile, the immersive 3D environment can also contribute to a faster design workflow, as it allows you to better understand space and perspective and use tools and brushes more intuitively.
What is Virtual Reality sculpting for?
What our users say about using Shapelab
"As a real-world sculptor, I've come to know and love sculpting under VR goggles as a new working tool without physical constraints. Shapelab first hooked me with Dynamic Tessellation, which actually greatly enhances the advantage that polygon-based sculpting already has for me over voxel-based sculpting! It really is a boon to my way of working. The program impresses with a clear structure, thereby intuitive accessibility and enormous stability and performance, even with a large polygon count."
Tom Aust – sculptor and VR artist
"I've been dabbling in Indie Game Dev and recently got a VR headset with the aim of getting into VR sculpting. Have tried other VR applications and this one here is a must-grab! It really is crazy how good this program is in regard to sculpting and making game-ready assets! For the price that this is it is amazing the amount you can do with this program! Even if you are not into using the assets for game development, just creating sculpts in this program is so relaxing and fun!"
"The best polygon-based VR sculpting software out there. Having tried it, I would have easily paid double. 10/10, I can't wait to see what the next updates bring. As a guy who is most comfortable in Blender, Shapelab feels very familiar to me, almost like a subset of Blender's sculpting features, but in VR form, which is just unbeatable for letting your creativity run wild"
"This App has become a part of my workflow for making 3d prints now. It's kind of like a VR version of Z Brush. The alphas for the brushes are what I am finding very useful for texturing the surface of my models prior to 3D printing. I like getting the surface as bumpy and textured as possible, as this helps immensely with real-life painting and natural shadowing. Before Shapelab, I was having to do a lot of this by hand, so this speeds up the workflow so much."
Learn sculpting in VR with video tutorials
Discover Shapelab's tools and features in our video series, and start VR 3D Modeling in no time! Learn how to navigate in VR, get the most out of the wide range of sculpting and painting brushes, and more!