Start your VR 3D modeling journey with Shapelab
Unlocking the full potential of VR 3D modeling
Shapelab's usage of polygons instead of voxels is unique among VR 3D modeling applications. Its robust, powerful, and optimized polygon mesh-based design engine allows users to sculpt stunning, well-detailed, and realistic 3D assets.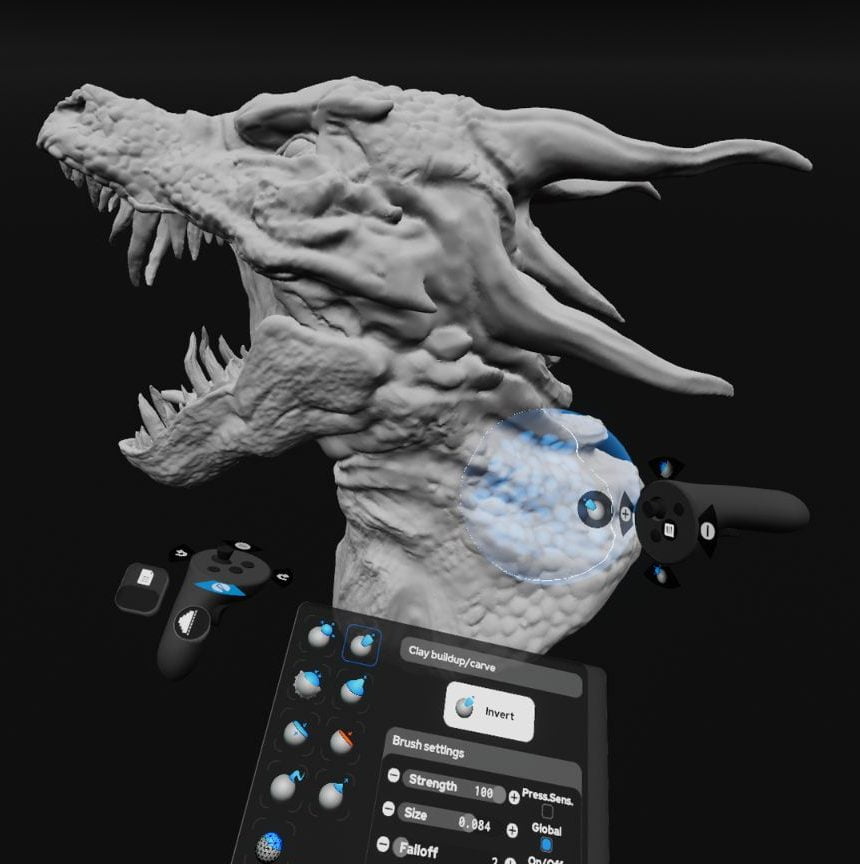 What is Virtual Reality modeling?
We define VR 3D modeling as creating 3D objects in the VR environment, moving the cursor in six degrees of freedom with VR controllers, instead of using a flat-screen computer with a mouse and keyboard.
Modeling 3D assets and immediately seeing them in virtual reality lets you experiment with a way of creation like never before. Creating in VR becomes a relaxing, fun, and enjoyable experience, but it can also enhance your work in many ways.
For example, virtual reality allows you to acquire a spatial vision and an understanding of perspective, which is a huge benefit compared to traditional 3D software. In addition, VR interactions will enable you to use specific design tools and brushes more effectively, contributing to a faster workflow.
What is VR 3D modeling for?
What our users say about using Shapelab
"I've never done any vr 3d modeling in my life, but I picked this up on a whim when I got my first VR headset. I've come to realize that I have an artistic side to myself that I've never known before. The level of intuitiveness this software has, and how natural it feels to sculpt in VR is something else."
Shawn Brynelson – Steam User
"ShapeLab is currently the best VR solution for organic 3D modeling. Easy to use, smooth UI. It is overall very easy to create models with high detail. I find it more user-friendly than PC software, it's much easier to learn. I just love it!!"
"I'm comfortable with 3D CAD but never got into more organic/artistic modeling. ShapeLab is a super intuitive way to work with models. Being able to see and touch models in 3d space let me quickly become productive in 3d modeling. I love this program."
"I strongly recommend the VR 3D modeling program Shapelab. It´s the most intuitive way to do sculpting digitally I have come across. It´s also not very demanding on your computer."
Virtual Reality 3D modeling comes with perks for everyone
For beginner 3D artists and aspiring creatives, VR has the potential to shorten the learning curve and open doors to solve complex design problems needed to digitize and improve their traditional workflows and processes.
For 3D designers, VR can be a helpful addition to the workflow – for quickly creating concepts or blocking out characters that can then be imported to other programs for additional work. Moreover, VR can be extremely helpful when inspecting and cleaning up large 3D scan data.